Di, 17.11.2009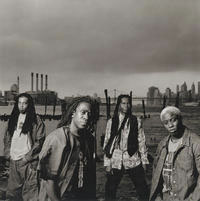 Sie kommen wieder! Nach ihrem vielgelobten Auftritt am Reitschulefest 08, kommen sie diesmal gar mit einem neuen Album in den Dachstock!
Wir sind gespannt!
Living Colour haben im September endlich ein neues Album veröffentlicht: "The Chair in the Doorway". Dieses gilt es am 17. November im Dachstock vorzustellen. Gekonnt schaffen sie auf der neuen Platte, ihre Art von Rockmusik ins neue Jahrzehnt zu katapultieren.
Vernon Reid, Gitarrist von Living Colour, gründet 1985 die Black Rock Coalition, eine non-profit Organisation, welche das musikalische Schaffen alternativer, afro-amerikanischer Künstler bis zum heutigen Tag unterstützt und fördert. Der BRC gehören unter anderem Mshell Ndegeocello, Keziah Jones und 24-7-Spyz an. Living Colour gründeten sich mitte der achziger Jahre in der Formation Corey Glover, Gesang, Vernon Reid, Gitarre, Muzz Skillings, Bass und Will Calhoun, Drums. Ausser Vernon Reid, der schon für Defunkt oder Public Enemy im Studio gewesen war, brachte kein anderes Mitglied Banderfahrung mit und so dauerte es ein paar Jahre, bis Living Colour den Sprung zur anerkannten Band schaffte. Hilfe kam von unerwarteter Seite: Mick Jagger nahm die Band unter seine Fittiche, produzierte mit ihnen ein Demo und verschaffte ihnen einen Album-Deal mit dem Label Epic. Das erste Album, Vivid, erscheint 1988, eine Tour als Support der Rolling Stones folgt und bald spielt auch MTV das Video zu Cult of Personality rauf und runter und in Folge gewinnt die Band die ersten Grammys. Muzz Skillings verlässt anfangs neunziger Jahre die Band und wird vom Studio-Veteranen Doug Wimbish ersetzt. Bis zu ihrer ersten Auflösung 1995 spielen Living Colour noch ein ganzes Album ein, Stain, und arbeiten an einem weiteren, welches ihr viertes komplettes Album hätte werden sollen. Dieses wird aber nie veröffentlicht, weil sich die Bandmitglieder musikalisch nicht finden können und sich in der Folge die Band auflöst. Nun, in neuer alter Frische, werden sie, wie bereits letztes Jahr im ausverkauften Dachstock, beweisen, wie sehr sie als Band die gemeinsame Schaffensplattform wiedergefunden haben!